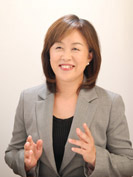 With the knowledge in biochemistry and molecular biology, I have worked in bioindustry for 24 years. This period coincides with that a new industry applying biotechnology has taken off in Japan. I have developed a wide range of business experiences by bridging between Japan and overseas. Especially, I am honored that I have had an opportunity to lead the processes to introduce new analytical instruments using surface plasmon resonance and to generate a new market in Japan at Biacore K.K.
 I have come to a decision to start a company. I believe a "techno-coordinator", who understands both science and business, is essential in the success of the science-based business such as bioindustry.
 I named the company "Bio-Business Bridge" with a mission to be a bridge between science and business, bridging Japan and foreign countries and a bridge between different disciplines. It would be my great pleasure if I could contribute to the development of bioindustry in Japan through the activities of Bio-Business Bridge Co. Ltd.

Setsuko Hashimoto, Ph.D,
Chairman
Bio-Business Bridge Co. Ltd.

| | |
| --- | --- |
| 2008 | Enrolled in MOT master course, Japan Advanced Institute of Science and Technology. |
| 1986 | Received the degree of Doctor of Science in molecular biology from Heidelberg University, Federal Republic of Germany. |
| 1979 | Received the degree of Master of Science in biochemistry from Faculty of Science, Kyushu University. |

| | |
| --- | --- |
| * | Pharma Research Laboratories, Hoechst Japan Ltd. |
| * | Pharmacia Biosystems K.K. |
| * | Biacore K.K. |